Colours: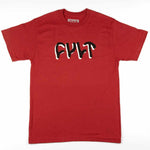 Cult Shadows T-Shirt - Black
The Cult Shadows T-shirt features a 2 colour print on a black t-shirt.

All the Cult t-shirts feature the Cult BMX logo printed inside the neck of the t-shirt along with the size of the shirt.
Please note this is printed on a new bigger, wider, and thicker quality shirt than previous ranges from Cult BMX.