Colours: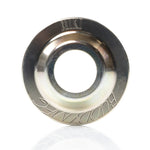 Buddy MFG BB Buddy - Black
Enhance your BMX frame with the power of grinding!
Although grinding on the BB shell of your frame is undeniably thrilling, it's important to acknowledge that frames aren't specifically designed for grinding. That's where the BB Buddy comes in—a robust replacement non-drive bottom bracket spacer built to withstand the harshest abuse, providing your frame with an extra layer of protection.
Crafted with precision from post heat-treated 4140, the same durable material used in high-quality metal pegs, this elevated washer boasts a slightly larger diameter than your bottom bracket shell. By incorporating the BB Buddy, you'll experience smoother and faster grinds like a true connoisseur, while enhancing the security of your Derek Dusters and preventing your BB bearings from disintegrating into oblivion.
Consider it your fifth peg, designed to elevate your street cred to new heights. Each BB Buddy is meticulously CNC machined by a seasoned BMX enthusiast in the post-Brexit era of Britain, ensuring exceptional quality and craftsmanship. Here at Backyard BMX we have all three sizes available to meet any of your crank spindle sizes, 19mm, 22mm, and 24mm. The BB Buddy is exclusively offered in sleek black, perfectly complementing your ride.